Custom Affordable Pet Portrait Paintings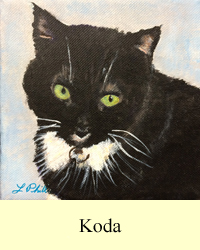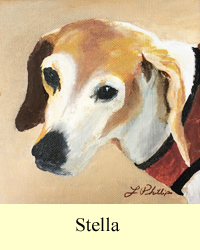 These 6"x 6", acrylic portraits, painted on cradled wood panels, were from photographs. If you would like a portrait of your pet, I would love to paint one.
You may choose either a cradled wood panel or a canvas wrap around. The edges are finished so there is no need for a frame. I add hangers so they are ready to be hung on your wall.
The price depends on the size you choose:
All major credit cards accepted. Free Shipping in the continental United States.
After selecting and purchasing a size you would like, please email a photo of your pet, your shipping address and your choice of wood panel or canvas. The photo you send needs to be a close up of the face and in focus. You may send two or three photos.
After I paint the portrait, I will email a photograph of the painting for your approval.
You may request small adjustments at this time.
You may cancel the order for a full refund at this time.
Once approved, I add the hangers and apply a coat of a protective acrylic matte finish to the painting and the edges.
All sales are final upon your approval.
Hope you enjoy viewing your much loved pet's portrait!
---
Website by Lois Phillips